Pressure & Other Valves
Accessories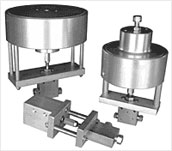 BuTech Pressure Systems offers a complete line of accessories for use with its valve and pipe equipment.
Male-Male Adapters
Male-Female Adapters
Female-Female Couplings
Quick Disconnect Couplings
High Pressure Hose
Thermocouples
Pressure Gauges
Relief Valves
About Butech
BuTech Pressure Systems is a leading manufacturer of High Pressure Valves, Tubing, Fittings and Accessories. For nearly 30 years, the Company has been a recognized leader in High Pressure Piping Components. Butech products operate in the range of 6K - 150KPSI.
BuTech, a leading manufacturer of high pressure valves, tubing, fittings and accessories, was established in 1973 with a commitment to quality, customer service, innovation and a goal to become the worlds leading supplier of high pressure valves, fittings and tubing.

5672 Bolsa Avenue Huntington Beach, CA 92649 - USA - Ph (714) 622-2000 - Fax (714) 622-2001