MAGNA Series Large Digit Displays Serial
(Input Displays, Meters Counters, Clocks, Timers)
Description
Large Digit Displays are sealed to NEMA-4 (IP65) and are 3" (75mm deep). These are programmable from front panel. These have optional dual 5A relay outputs analog out put & serial I/O These come with wide choices as given below
Choice of 2-1/4", 4", 6" or 8" digit heights
Choice of 4 or 6 digits with period or color dividers
Choice of normal or outside viewing brightness
Choice of signal inputs and functions
Choice of panel mount, wall mount or suspension mount
Choice of 95-264 Vac or 11-30 Vdc power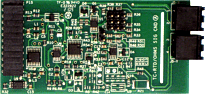 Designed for system use
Optional plug-in boards for communications and control include Ethernet and other serial communication boards, dual or quad relay boards, and anisolated analog output board. Laureates may be powered from 85-264 Vac or optionally from 12-32 Vac or 10-48 Vdc. The display is available with red or green LEDs. The 1/8 DIN case meets NEMA 4X (IP65) specifications from the front when panel mounted. Any setup functions and front panel keys can be locked out for simplified usage and security. All power and signal connections are via UL / VDE / CSA rated screw clamp plugs.
Viewing distances up to 320 feet (100 m)

Viewing distances up to 320 feet (100 m) are achieved with oversize digits. A rule of thumb is that viewing distance in feet is 40 times digit height in inches, or in metric terms, that viewing distance in meters is digit height in millimeters divided by 2.

Four digit heights are available

57 mm (2-1/4"), 102 mm (4.0"), 150 mm (5.9"), and 200 mm (7.9"). Solid segments are used for normal brightness 2.2" and 4.0" digits. Individual 5 mm LED pixels are used for larger digits and outdoor brightness versions. The number of digits can be 4, 6 or 8, depending on the display function.

Indoor or Outdoor Viewing

MAGNA Series Displays with normal brightness LEDs can be read across an entire plant floor to keep workers informed without leaving their work area. Displays with outdoor brightness LEDs can be read across an industrial yard, parking lot or roadway, for example to display vehicle load. Available mounting options are panel mount, wall mount and suspension mount. Environmental sealing to IP65 (NEMA-4X) is standard.

Choice of Signal Inputs

MAGNA Series Displays are available for different signal types, with can each be associated with different numbers of displayed digits (4, 6 or 8). Please click on the links below for detailed information by signal type:
Serial data from PCs, PLCs, serial output transmitters, and smart sensors.
Process input (e.g., 4-20 mA)
Strain gauge / load cell input
Pulse input for frequency or rate
Pulse input for total or quadrature position
Pulse input for operation as a clock or timer
Available Options

Available Options are dual 5A relays, an analog output, an RS-232 or RS485 serial data output, and 95-264 Vac or 11-30 Vdc power.

Intuitive Setup

Intuitive Setup is normally provided by means of built-in front panel switches, which can be locked. It is also possible to remotely wire four pushbuttons to the display.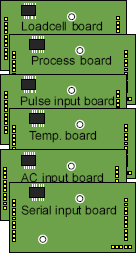 5672 Bolsa Avenue Huntington Beach, CA 92649 - USA - Ph (714) 622-2000 - Fax (714) 622-2001