TS6 Serial-to-Analog DIN Rail Transmitter Converts serial data to a scaled analog signal.
Features
RS-232 or RS-485 serial input.
Able to retrieve data from long character strings.
Isolated 4-20 mA or 0-10V transmitter output, user selectable.
Analog output accuracy: ±0.05% of span.
DIN rail mount package only 22.5 mm (0.89") thick.
Detachable screw-clamp connectors.
Easy setup using Laurel's PC-based Instrument Setup Software.
Choice of 3 protocols: Modbus RTU, Modbus ASCII, or Laurel ASCII.
Data rates from 300 to 19,200 bps.
Analog output resolution: 0.025% of span (12 bits).
Update rate to 60/sec.
Powered by AC or DC.
Powered by 95-240V AC ±10% (standard) or low voltage AC or DC (optional).
Optional dual solid state relays for alarm or control.
Description
The Laureate TS6 serial input to analog output transmitter
accepts RS-232 or RS-485 serial data with Modbus or Laurel ASCII Protocols, and converts it to an isolated, scalable 4-20 mA or 0-10V analog output signal. The unit fits on a 35 mm DIN rail and is only 22.5 mm (0.89") thick. It is normally powered by AC (95-240V ac ±10%), but can optionally be powered by low voltage AC or DC. All electrical connections are via detachable screw-clamp plugs.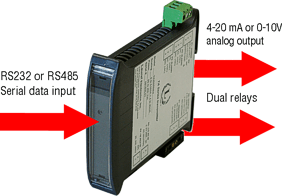 Serial Data Input
One three-screw-terminal connector accepts RS-232 or RS-485 serial data, as selected via jumpers on the main board. Data rates are selectable as 300, 600, 1200, 2400, 4800, 9600 or 19200 bps. The RS-232 interface is suitable for short cable runs and point-to-point communications. The RS-485 interface is compliant with the EIA/TIA-485 standard and supports multiple addressable devices on the same data line using the Modbus protocol or Laurel ASCII Protocol. Modbus implementation is fully compliant with Modbus over Serial Line Specification V1.0 (2002) in RTU or ASCII, half duplex (2-wire) operation, with up to 247 digital addresses.
Selectable Data Retrieval
The Laureate serial-to-analog transmitter is able to retrieve digital data from long character strings. You can specify character positions, start and stop ASCII characters, how many characters to skip, and how many characters to process.
Analog Transmitter Output
The analog output is selectable as 0-10V or 4-20 mA (also scalable for 0-20 mA). All selections provide 12-bit (0.025%) resolution of the output span and are ultra-linear to within one bit. Accuracy is ±0.05% of output span. Output isolation from signal, power and serial communication grounds is provided by a separate on-board transmitter power supply, thereby eliminating potential problems caused by ground loops. The supply can an drive 20 mA into a 500 ohm (or lower) load for 10V compliance, or 10V into 5K ohm (or higher) load for 2 mA compliance.
Easy to Set Up and Install
Transmitter programming is via a three-terminal RS-232 port using Laurel's PC-based Instrument Setup Software. This software can be downloaded from this website at no charge. The required transmitter-to-PC interface cable is available from Laurel (P/N CBL03).
Laurel's transmitters and meters can be part of PC-based data logging systems using Laurel's Datalogging Software, which operates under the Laurel ASCII Protocol.
Specifications
RS-232 Input Interface
Data Rates
300, 600, 1200, 2400, 4800, 9600, 19200 bps
Devices on RS-232 line
1 (point-to-point, short distances)
Connector
Three detachable screw-clamp plugs: RXD, TCD, common
Supported Protocols
Modbus or Laurel ASCII
Isolation
250V rms from power and analog output continuous, 2.3 kV rms per 1 min test.).
RS-485 Input Interface
Cabling
Half duplex (2-wire)
Data Rates
300, 600, 1200, 2400, 4800, 9600, 19200 bps
Devices on RS-485 line
32 max
Connector
Three detachable screw-clamp plugs: D0, D1, common
Standards Compliance
EIA/TIA-485
Supported Protocols
Modbus or Laurel ASCII
Isolation
250V rms from power and analog output continuous, 2.3 kV rms per 1 min test.
Modbus Protocol
Type
RTU or ASCII.
Standards Compliance
Modbus over Serial Line Specification V1.0 (2002).
Digital Addresses
247 max
Laurel ASCII Protocol
Type
ASCII.
Digital Addresses
31 max
Serial Input Electrical Protection
ESD Protection
15 kV per IEC 1000-4-2
EMI Immunity
10 V/m per IEC 1000-4-3
EFT Protection
2 kV per IEC 1000-4-4
Short Circuit Protection
Continuous
Analog Output
Output Levels
0-20 mA or  0-10 Vdc (selectable)
Compliance, 4-20 mA
10V ( 0-500 ohm load )
Compliance, 0-10V
2 mA ( 5 kOhm load )
Output Resolution
12 bits (4,096 steps)
Output Accuracy
±0.05% of output span
Isolation
250V rms from power and serial I/O continuous, 2.3 kV rms per 1 min test
Dual Relay Output (optional)
Relay Type
Two solid state relays, SPST, normally open, Form A
Load rating
120 mA at 130 Vac or 170 Vdc, 28 ohms series resistance.
Power, Electrical & Setup
Power to Transmitter
95-240V AC ±10% or 90-300V DC (standard power).
9-33V AC or 10-48V DC (low voltage power option).
Transmitter Setup
Via RS-232 from PC using Instrument Setup Software and CBL03 cable.
Mechanical
Case Dimensions
120 x 101 x 22.5 mm
Case Mounting
35 mm rail per DIN EN 50022
Electrical Connections
Detachable screw-clamp plugs
Environmental
Operating Temperature
0°C to 70°C
Storage Temperature
-40°C to 85°C
Relative Humidity
95% at 40°C, non-condensing
Pinout Laureate Serial Input, Analog Output, DIN Rail Transmitter
(Shown with optional dual relay output)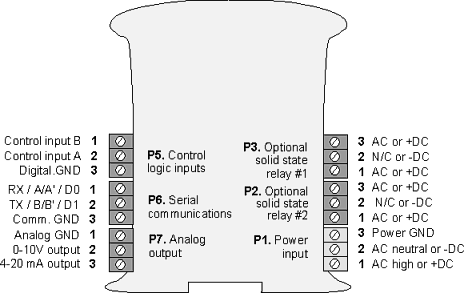 5672 Bolsa Avenue Huntington Beach, CA 92649 - USA - Ph (714) 622-2000 - Fax (714) 622-2001