Laureate™ Quadrature Position & Rate Meters
(Accurate position or rate from quadrature encoders)
Features
Common Features
Accepts low-level differential or single-ended 5 V logic level outputs from shaft encoders.
Combined pulse rate to 250 kHz.
Zero channel input.
Isolated 5, 10 or 24 Vdc excitation output to power shaft encoder.
Green or red LED display
Optional dual relays, 4-20 mA & 0-10 V analog output, RS-232/485 I/O, parallel BCD output, low voltage AC or DC power.
Quadrature count x1, x2 or x4.
Programmable display refresh rate up to 25/s.
6-digit display scalable for direct readout in units of length.
AC or DC powered.
NEMA-4X 1/8 DIN case.
Safety certified to UL 61010C-1 (UL mark).
Position, Length or Angle Measurement
The Laureate™ quadrature meter with the Standard counter main board accepts the A & B signals from shaft encoders to provide a highly accurate, scaled display of position, length, or angle in engineering units, such as ft, cm or degrees.
The A & B quadrature signals are 90º out of phase, and their phase relationship determines whether up counts (+) or down counts (-) are produced. The meter totalizes the counts and then scales the total in software for display and control. A zero index signal may be added as a third input to the A & B signals.
Scaled Rate Measurement
Use of the Extended counter main board can convert the quadrature meter from scaled position to scaled rate. For example, it can display the speed of a moving slab in ft/sec. Simultaneous display of position and rate will require two meters. The display and control output update rate for position or rate is normally set to a maximum of 25/s, as determined by a user-programmable gate time
Quadrature Meter Capabilities
One, two or four transitions
may be counted at a maximum combined rate of 250 kHz and be mathematically scaled for display in engineering units from -999,999 to +999,999. The quadrature board has input circuitry which may be jumpered for either single-ended input signals or for balanced line driver signals. Anti-jitter circuitry eliminates errors produced by vibration of the encoder.
A zero index pulse, if available, is interpreted as by the meter as corresponding to an integral number of revolutions of the shaft encoder. It is used by the meter to correct for any cumulative pulse count errors. Special circuitry corrects for width of the zero index pulse.
In the event of a power failure
, the current total may be stored in non-volatile memory and can be used as the starting point for counting when power resumes. Power fail or zero index capabilities are alternate meter setup choices.
Interface Capabilities
A built-in isolated 5, 10, or 24 Vdc excitation supply can power the encoder and eliminate the need for an external power supply. Plug-in isolated analog output, dual-setpoint controller, and RS-232/485 communications boards can upgrade the Laureate quadrature meter from stand-alone monitor to system interface and control. In particular, the meter can provide an isolated 4-20 mA or 0-10V output signal scaled to the display.
Specifications
Display
Excitation Output
Readout
6 LED digits, 7-segment, 14.2 mm (.56"), red or green.
5 Vdc
5 Vdc ±5%, 100 mA max
Display Update Rate
Programmed gate time + 30 ms + 1-2 signal periods
10 Vdc
10 Vdc ±5%, 120 mA max
Range
-99999 to +99999 
24 Vdc
24 Vdc ±5%, 50 mA max

Indicators
 4 red LED lamps
Output isolation
50 Vdc to meter ground
Quadrature Position Mode
Analog Output (optional)
Zero Adjust

-999999 to +999999

Output levels
0-10V, 0-20 mA, 4-20 mA (jumper selectable)
Compliance
2 mA at 10V (5 kOhm load), 12V at 20 mA (0-60 ohm load)
Span Adjust
0 to 999999
Scaling
Zero and full scale adjustable from -99999 to +99999

Resolution

12 bits (0.025% of full scale)

Serial Data I/O (optional)
Power
Board Selections
RS232, RS485, Modbus RS485
Voltage, std.
85-264 Vac and 90-370 Vdc

Protocols

Modbus RTU, Modbus ASCII, simpler Laurel ASCII

Frequency
DC or 49-440 Hz

Data Rates

300 to 19200 bps

Voltage, opt.
8-28 Vac and 9-37 Vdc

Digital Addresses
247 (Modbus), 31 (Laurel ASCII),
Power isolation
Safety-rated to 250 Vac, meter ground to earth ground,
DC to 60 Hz, 4.2 kVp per High Voltage Test
Isolation
250V rms working, 2.3 kV rms per 1 min test
------
------
Inputs
Types
Differential or single-ended quadrature
Differential low threshold voltage
-200 mV

Transitions Monitored
x1, x2 or x4

Differential common mode
± 7V

Max Pulse Rate
250 kHz at x1, 125 kHz at x2, 62.5 kHz at x4
voltage
2.5V to 10V
Differential high threshold voltage
+200 mV
Single-ended high voltage
-1V to +1V
Environmental
Operating Temperature
0°C to 55°C
Storage Temperature
-40°C to 85°C
Relative Humidity 
95% at 40°C, non-condensing
Protection
NEMA-4X (IP-65) when panel mounted
Typical Applications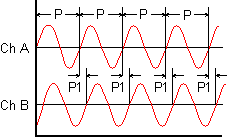 Using Quadrature for Cutting to Length
Controlling the repetitive cutting of material to length is an excellent application of the Laureate quadrature meter.
The quadrature encoder shares the shaft of a sensing wheel, whose rotation corresponds to lineal displacement of material. The meter compares the displacement reading against setpoint information, and then uses its dual relays to first slow down and then cut the material.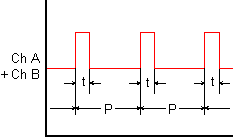 Using Quadrature for X-Y Positioning
Accurate X-Y position or rate can be obtained from two shaft encoders, which convert linear position to quadrature signals as a shaft turns. In addition to serving as a display, each Laureate can use its optional dual relay setpoint capability for closed loop control. It can also transmit data via RS-232, RS-485, or a 4-20 mA analog signal.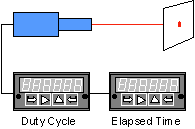 Using Quadrature to Monitor a Drilling Operation
The Laureate is compatible with all flowmeters which generate pulses at a frequency proportional to flow rate. The Extended version can display scaled rate or total for the same input at the push of a button, and alarm from both the rate and total. The Extended version can also linearize flow transducers so as to extend their dynamic range.
5672 Bolsa Avenue Huntington Beach, CA 92649 - USA - Ph (714) 622-2000 - Fax (714) 622-2001