Laureate™ Scale Meter for Weighing Applications
(High accuracy weight, low cost, plus control outputs)
Features
Setpoint control with offset compensation for filling applications.
Display to 999,990 with fixed zero.
Auto-zero display function.
Count by 1, 2, 5, 10, 20, 50 or 100 with rounding.
Isolated 10 Vdc supply to power up to four 350 ohm load cells.
4- or 6-wire hookup.
Green or red LED display.
Optional dual relays, 4-20 mA & 0-10 V analog output, RS-232/485 I/O, parallel BCD output, and low voltage AC or DC power.
5-digit resolution with scaling from 0 to 99,999.
Auto-tare or manual tare, with tare value stored in non-volatile memory.
Display toggle between gross or net weight.
Easy scale calibration using known weight.
AC and DC input powered.
Up to 60 conversions per second.
NEMA 4X front panel, 1/8 DIN case.
Certified to UL 3101-1, CAN/CSA-C22.2, EN 61010-1 (CE Mark).
Display & Setpoint Functions
Setpoint Offset.
The ON/OFF setpoint control action can be programmed to occur with a specified offset. For instance, if bags are to be filled to 100 lbs and the material delivery spout is known to hold and dispense an additional 2.5 lbs following shut-off, an offset of -2.5 lbs can be programmed. The setpoint can then be set to 100 lbs, and the filling valve will be automatically shut off when the measured weight reaches 97.5 lbs.
Count-by Function. The weight meter can be programmed so that the display is rounded off to multiples of 1, 2, 5, 10, 20, 50 or 100. For example, if count-by 10 is selected, the meter will display 20 for an internal count of 15 to 24.
Fixed Zero.
The display can be shifted left to allow a fixed zero to be displayed to the right. This allows values up to 999,990 to be displayed.
Auto-zero Function. An auto-zero limit from 0 to 9 counts can be programmed to compensate for load cell drift. Whenever the meter comes to rest within that limit from zero, it will auto-zero. Entering 0 disables auto-zero.
Two Tare Functions.
The weight meter offers two types of tare: auto-tare and manual tare. In auto-tare, an input line is grounded by an external pushbutton. This causes the current weight, which is normally the empty weight of the container to be stored in memory as an offset. In manual tare, the tare value can be entered manually via the front panel or a computer. For instance, the tare value may be the stated empty weight of a truck or rail car. Pressing the Reset button on the front panel toggles the display between gross weight (total weight on the scale) and net weight (gross weight with tare subtracted).
Load Cell Connection
The load cell signal conditioner, which is normally used with the weight meter, is designed for 4- or 6-wire hookup. In 4-wire hookup, the meter operates in a ratiometric mode to eliminate errors due to supply variations. In 6-wire hookup, it also compensates for variations in transducer lead resistance, thereby allowing long cable runs in changing temperature environments. The built-in isolated 10 Vdc excitation supply can power up to four 350-ohm load cells in parallel.
Easy Scale Calibration
The weight meter is normally set up using a simple two-point calibration method. First, the desired LO IN reading is set to 0, and the desired HI IN reading is set to a desired value. With no weight on the scale, a button is pushed for LO IN. With a known weight on the scale, that button is pushed again for HI IN. The meter then automatically computes scale and offset for readout up to five digits in weight units.
Add-on Functions & Options
Plug-in isolated analog output, dual setpoint controller and RS-232/485 communications or parallel BCD output boards can upgrade the Laureate weight meter to system interface and control.
Fast Response
The Laureate weight meter offers extremely fast read rates. These are ideal for weigh-in-motion systems, setpoint control, and computer interface applications. Concurrent Slope (Pat 5,262,780) is a method of analog-to-digital conversion that allows up to 60 conversions per second, while integrating the input signal over a full line cycle.
An adaptive digital filter can be set for time constants from 17 ms to 9 s, yet responds rapidly to a change in input signal level exceeding a threshold value. The meter can automatically select the best filter setting for maximum noise rejection and minimum response time. Control and interface outputs can be derived from the filtered signal or, for quicker response, from the unfiltered signal. Display of peak value is standard in the Laureate series.
Specifications
d Cell Signal Conditioner
Full-Scale
Input, mV
Zero
Adjust
Span
Adjust
Error at 25°C
±20.000
-99,999
to
+99,999
0 to
±99,999
0.0030% of
reading /°C
±50.000
±100.00
±250.00
±500.00
 
With DC Signal Conditioner
Full-Scale
Input, mV
Zero
Adjust
Span
Adjust
Error at 25°C
±200 mV
-99,999
to
+99,999
0 to
±99,999
0.01% FS
±1 count
±2 V
±20 V
±20 mA
With Load Cell or DC Signal Conditioners
Accuracy, Load Cell Signal
Noise Rejection
Span Tempco
0.0030% of reading/°C
CMR, DC to 60 Hz

130 dB
Zero Tempco
Auto-zero
NMR at 50/60 Hz
90 dB with min filtering
Calibration Method
2 points using zero weight and known weight
--------
--------
Accuracy, DC Signal
Display
Span Tempco
0.01% FS ±1 count
Readout
5 digits, 7-segment, 14.2 mm (.56")
Zero Tempco
Auto-zero
Color
Red or green LED
Calibration Method
2 points using zero weight and known weight
Range
-99999 to +99999 or -99990 to +99990 (with fixed right-hand zero)
--------
----------
Rounding
Indicators
Count by 1, 2, 5, 10, 20, 50, 100 Four LED lamps
Power
Excitation Output
Voltage, std
85-264 Vac and 90-370 Vdc
5 Vdc
5 Vdc ±5%, 100 mA max
Voltage, opt
8-28 Vac and 9-37 Vdc
10 Vdc
10 Vdc ±5%, 120 mA max
Frequency
DC or 49-440 Hz
24 Vdc
24 Vdc ±5%, 50 mA max
Power isolation
Safety-rated to 250 Vac, meter ground to earth ground,
DC to 60 Hz, 4.2 kVp per High Voltage Test
Output isolation
50 Vdc to meter ground
Environmental
A-to-D Conversion
Operating Temperature
0°C to 55°C
Technique
Concurrent Slope™ (Pat 5,262,780)
Storage Temperature
-40°C to 85°C
A-to-D Rate
60/s at 60 Hz, 50/s at 50 Hz
Relative HumidityProtection
95% at 40°C, non-condensingNEMA-4X (IP-65) when panel mounted
Output Update
56/s at 60 Hz, 47/s at 50 Hz
------------
---------------
Display Update
3.5/s at 60 Hz, 3/s at 50 Hz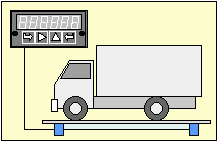 Weighing the Load on a Truck
This application illustrates some of the capabilities of the Laureate weight meter. The single Laureate can power all four 350 ohm load cells of the scale with its 10 V, 120 mA isolated excitation output. Six-wire connection eliminates the effects of lead resistance and allows long cable runs from the control room to the scale.
The five-digit meter can be scaled to display truck weight up to 99,999 lbs with 1 lb resolution or 999,990 lbs with 10 lb resolution. Accuracy is 0.01% of full scale at 25ºC. To avoid the effects of system-level noise, different filter settings as well as "count by" of 1, 2, 5, 10, 20, 50 or 100 with rounding are selectable.
To read out net weight of the load, the truck can first be weighed empty, and this weight can be entered as tare at the push of a button in an auto-tare mode. Or the nominal tare value of the truck can be entered manually. Display of net weight or gross weight is at the push of a button. The gross weight and net weight can be alarmed, be transmitted to a computer via RS-232 or RS-485, or be transmitted via a 4-20 mA analog signal.
Electrical Connections & Setpoint Offset
| | |
| --- | --- |
| | In 4-wire connection, the excitation and sense lines are tied together. The meter can make ratiometric corrections for supply voltage variations, but not compensate for variations in lead resistance. This connection is often used with short cable runs. |
| | In 6-wire connection, the sense lines are separate from the excitation lines, thereby eliminating effects due to variations in lead resistance. This allows long cable runs in outdoor environments with temperature extremes. |
| | The DC signal conditioner board can be utilized to accept preconditioned 4-20 mA or 0-10 V scale signals. In two-wire 4-20 mA transmitter connection, the same two wires are used to apply voltage and carry the output current. |
| | In a repetitive fill operation (as illustrated by example), a setpoint offset of -50 will allow a shutoff setpoint to be set for 1000 and actual shutoff to occur at 950 if it is known that 50 units will still flow following shutoff. An offset can also be applied to emptying operations. |
5672 Bolsa Avenue Huntington Beach, CA 92649 - USA - Ph (714) 622-2000 - Fax (714) 622-2001