DC Voltage or Current Input 4-20 mA Current Transmitter
(DIN Rail mounted, digitally programmable. Exceptional accuracy at high update rates.)
Features
0.2, 2, 20, 200, 300V & 600V ranges.
All ranges factory calibrated.
Update rate: to 60/sec.
DIN rail mount package only 22.5 mm thick.
Detachable screw-clamp connectors.
Optional dual solid state relays for alarm or control.
2, 20, 200 mA and 5A ranges.
4-20 mA or 0-10V isolated transmitter outputs, selectable.
Built-in 5V, 10V or 15V dc excitation supply.
Powered by AC or DC.
Easy setup using Laurel's PC-based Instrument Setup Software.
Optional custom curve linearization (Extended main board).
Description
Laureate 4-20 mA output, DC input transmitters
provide six voltage ranges and four current ranges, all factory calibrated and jumper selectable. The 200.00 mV and 2.0000 V ranges provide a high input impedance of 1 Gohm to minimize the load on the voltage signal. A 5.000A range measures the IR drop across a built-in 10 mW current shunt. The transmitters can also easily be scaled in software for use with external shunts.
Laureate DC input transmitters duplicate the performance and programmable features of their Laureate DC digital panel meter counterparts. Features include exceptional accuracy at high read rate, and optional dual solid state relays for local alarm or control. The transmitters are housed in a DIN rail case that is only 22.5 mm (0.89") thick. Signal connections are via detachable screw-clamp plugs.
In addition to the 4-20 mA output that would typically be used for signal transmission in an industrial environment, a 0-10V analog output is selectable. Either selection provides 12-bit (0.025%) resolution of output span and is ultra-linear to within one bit. The output tracks the reading that would be transmitted digitally. For DC signals, this reading has a rated accuracy of ±0.01% of full scale input and can be scaled in software so that its resolution exceeds output resolution. DC transmitter accuracy is set by the DAC and is ±0.05% of output span.
Output isolation from signal and power grounds is provided by a separate on-board transmitter power supply, thereby eliminating potential problems caused by ground loops. The supply can an drive 20 mA into a 500 ohm (or lower) load for 10V compliance, or 10V into 5K ohm (or higher) load for 2 mA compliance. Transmitter programming is via a three-terminal RS-232 port using Laurel's PC-based Instrument Setup Software. This software can be downloaded from this website at no charge. The required transmitter-to-PC interface cable is available from Laurel (P/N CBL03).
Specifications
Analog Input
Range
Resolution
Input Ohms
DC Voltage




200.00 mV  
2.0000 V
20.000 V
200.00 V
600.0 V
10 µV
100 µV
1 mV
10 mV
100 mV
1 Gohm
1 Gohm
1 Mohm
1 Mohm
1 Mohm
DC Current



2.0000 mA
20.000 mA
200.00 mA
5.000 A
0.1 µA
1 µA
10 µA
1 mA
100 ohms
10 ohms
1 ohm
0.01 ohm
Input Resolution
16 bits (65,536 steps)
Update Rate, Max
50/sec at 50 Hz, 60/sec at 60 Hz.
Max applied voltage
600 Vac for 20, 200 & 600 V ranges, 125 Vac other ranges.
Over-current protection
25x for 2 mA, 8x for 20 mA, 2.5x for 200 mA, 1x for 5 A.
Analog Output
Output Levels
4-20 mA, 0-20 mA or  0-10 Vdc (selectable)
Compliance, 4-20 mA
10V ( 0-500 ohm load )
Compliance, 0-10V
2 mA ( 5 kOhm load )
Output Resolution
12 bits (4,096 steps)
Output Accuracy
±0.05% of output span
Output Isolation
250V rms working, 2.3 kV rms per 1 minute test
Transducer Excitation Output (standard)
Jumper Selection 1
10V @ 60 mA, isolated to 50V from signal ground
Jumper Selection 2
5V @ 50 mA, isolated to 50V from signal ground
Jumper Selection 3
15V @ 60 mA, non-isolated
Dual Relay Output (optional)
Relay Type
Two solid state relays, SPST, normally open, Form A
Load rating
120 mA at 130 Vac or 170 Vdc, 28 ohms series resistance.
Power Input
Standard power
95-240V AC ±10% or 90-300V DC
Low power option
12-30V AC or 10-48V DC
Frequency
DC or 47-63 Hz
Power Isolation
250V rms working, 2.3 kV rms per 1 min test.
Mechanical
Case Dimensions
120 x 101 x 22.5 mm
Case Mounting
35 mm rail per DIN EN 50022
Electrical Connections
Detachable screw terminal connectors
Environmental
Operating Temperature
0°C to 70°C
Storage Temperature
-40°C to 85°C
Relative Humidity
95% at 40°C, non-condensing
Pinout Laureate 4-20 mA Transmitter, DC Voltage or Current Input
(shown with optional analog output and dual relay output)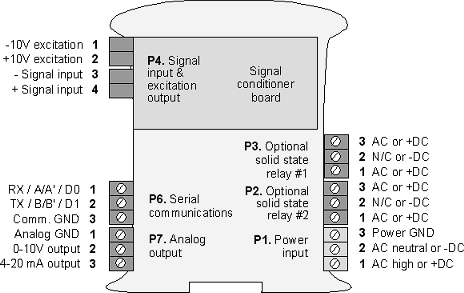 5672 Bolsa Avenue Huntington Beach, CA 92649 - USA - Ph (714) 622-2000 - Fax (714) 622-2001