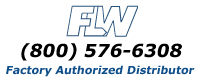 RFT Recording Thermometer
Quick Specification:

A one pen, 10" circular chart, temperature recorder.
Available with 12, 24, or 48 hour, or 7 day rotation times for 125VAC, 60 Hz operation, and others.
Seventeen operating ranges covering -30ºF to 1100ºF.
Can be panel or surface mounted.
Overview
Industry/Application
Specifications
Manual
Overview / Design Principle:
Records temperature on a 10" chart. Twelve ambient compensated ranges within -30ºF to 1100ºF, permit application diversity from refrigeration to high temperature ovens. Standard clock rotations 12, 24 and 48 hour, 7 day, others availalble. Choice of electric or spring wound chart drives available. Wall mounted (brackets furnished) or flush mounted. UL listed.
Operation:
Pen recording is powered by the Piston Pak thermal sensing element, which is field replaceable. Temperature ranges may be substituted at any time by obtaining the correct Piston Pak assembly and proper chart graph, and exchange these with those already on the recorder, providing field range changeability.
Applications:
Basic recording capability for diverse industrial heat and cooling applications
Industries:
Mobile Refridgeration
| | |
| --- | --- |
| Chart Diameter: | 10 inch |
| Chart Marking: | Felt Tip Cartridge/optional pressure sensitive charts |
| Chart Drive: | Electric with toggle switch, or spring wound. |
| Chart Rotation Periods: | 24 and 48 hour, 7 day, other options |
| Flush Mount Cutout: | 13-1/2" W x 12-11/16" H |
| Surface Mounting: | Mounting brackets included. |
| Electrical Hookup: | Terminal block accessible with cover open. |
| Conduit Openings: | One 7/8" diameter hole on each side of the case for 1/2" conduit fitting; drill-guide hole spotted in the rear of the case showing optional rear opening location. |
| Rated Accuracy: | 1% of element range. |
Physical Characteristics
| | |
| --- | --- |
| Dimensions: | 15-1/8" W x 13-13/16" H x 4-7/8" D |
| Approx. Net Weight: | 9 lbs |
| Approx. Ship Weight: | 14 lbs |
Ratings/Agency Approvals
Warranty