Medium Pressure Valves & Fittings For pressures up to 20,000 PSI
BuTech medium pressure needle valves are designed for liquid and gas flow control in petroleum, chemical, power generating and general industrial applications.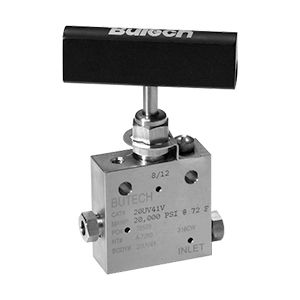 Available in a variety of body styles, the valves are designed for manual operation in temperatures ranging from -100°F to 600°F (-73°C to 315°C). Optional packings and/or extended stuffing boxes increase the range from -423°F to 1,200°F (-253°C to 648°C). Rugged construction provides assurance of fail-safe operation at pressures up to 20,000 PSI (1,380 bar).
Standard Features
Non-rotating stem prevents galling and scoring
Four stem styles: Vee, Regulating, Metering, and Micro-Metering
17-4PH stem for longer service life. 316 wetted parts are also available by specifying option -316WP
Glass-filled Teflon packing for temperatures to 600°F (315°C)
Integral through holes for bracket mounting, or single-hole panel mounting option
Wide range of options allow customizing of valve
Standard Materials of Construction
Standard materials of construction include 316 cold-worked stainless steel, 17-4PH, Ampco 45, and glass-filled Teflon. All BuTech equipment may also be produced in any machinable alloy. Some of the more common exotic materials used are:
Hastelloy
Inconel
Titanium
Monel 400
Medium pressure valves & fittings include:
Anti-Vibration Glands
Bulkhead Couplings
Caps
Check Valves
Collars
Couplings
Crosses
Elbows
Filters
Glands
Needle Valves
Nipples
Options
Plugs
Safety Heads
Tees
Tubing