Air/Gas Driven Chemical Injection Pumps
Haskel International has nearly 60 years of hydraulic and pneumatic engineering experience in the design and manufacture of air/gas and electric pumps. Continuous investment in the new machinery and technology keeps Haskel at the forefront of the field.
We offer the most complete range of models in the industry measured for:
Capability of ultimate pressure, flow or output horsepower
Compatibility with a variety of liquids

Injection Pumps and Systems
By listening to the needs of our customers, we have developed and offer a comprehensive pump range utilizing materials such as 31655, ceramics, and Teflon in order to achieve the highest corrosion resistance possible.

To meet the needs of highest accuracy and reduced chemical costs, Haskel pumps offer both stroke rate and stroke length adjustment providing high flow rate turndown ratios, and enabling simple setup and operator adjustments when necessary.Haskel International

In developing this extensive range, Haskel has drawn on decades of knowledge and experience in producing high-pressure pumps (up to 100,000 psi) and has built in the technology and high quality that has made Haskel the largest manufacturer of high-pressure pumps in the world.


Skid-Mounted Package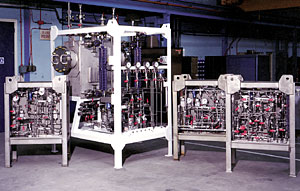 Haskel International designs and builds chemical injection skids and customizes system packages to meet individual specifications. We can provide these services from locations worldwide including the USA, UK, Singapore, Malaysia and Australia. Qualified engineers and trained distributors provide ongoing technical support before, during, and after installation to ensure complete customer satisfaction. This level of service and commitment is a recognized strength of Haskel International.
Metering Pumps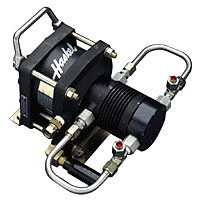 Haskel International metering pumps and systems are used throughout the world by most of the leading oil and gas companies and their operators. A complete reference guide is available on request, detailing the depth and experience the Company has in meeting the requirements of the chemical injection industry.


Pneumatic Pumps for Chemical Injection
Safety
Intrinsically safe, non-electric
use of air/gas drive and corrosion resistant materials allow use in difficult and hazardous areas such as offshore oil/gas platforms.
Performance
Positive displacement
Stroke rate and stroke length adjustment for accuracy
Materials chosen for maximum corrosion resistance
Quality Simplicity
Manufactured to the highest quality standards demanded by today's industry
Compact design compared with alternate electric pumps
Reduced components for easy maintenance
Easily installed, easily operated
Application
Oil, Petrochemical & Refining - Metering and injection of chemicals during the production, processing, refining or transmission of oil and gas.
Offshore Oil & Gas - Injection and metering of Methanol, Glycol, corrosion inhibitors, emulsion breakers, oxygen scavenging, etc.
Gas LNG, LPG and CNG - Injection of Methanol, corrosion inhibitors and odorants.
Power Generators - Injection of caustic and other chemicals for prevention of corrosion and scale in industrial boilers.
Chemical Processing & Laboratories - Metering of dyes, detergents, lubricants, etc.
Pulp & Paper - Metering of caustics, solvents, defoamers, biocides.
Water Treatment - Metering of acids, corrosion and scale inhibitors.
Industrial - Metering of chemicals and solutions used in the manufacture of paint, rubber, plastic, ink, textiles, fertilizers, electronics, etc.
Selection
Each injector or metering application has characteristics that can affect metering accuracy. These include fluid compressibility, viscosity, line length, etc. It is therefore necessary to select a pump that will provide both the pressure, displacement and cycle rate well within the requirements and adjust the cycle rate under actual site conditions.
This is most commonly done by observing the amount of time taken for a known volume of liquid to flow into the pump (while operating under full load if possible) for good accuracy. Simply observe the time taken while the pump draws fluid from a graduated tube or container (rate gauge recommended - see page 10) and extrapolate the results in a rate per minute, hour or day as required.Haskel International, Inc. is the world's leading manufacturer of pneumatically driven, high-pressure liquid pumps, gas boosters, air pressure amplifiers, and high pressure systems
How To Select The Correct Model
Output per hour -- select the smallest pump capable of achieving the output flow rate with- in the maximum number of strokes per minute. (Consult the chart for maximum number of strokes per pump.)
Outlet pressure available -- select a pump nominal ratio to give an outlet pressure greater than the process line pressure; e.g., if process line pressure is 345 bar (5,000 psi) Ratio x Air Drive Pressure = Outlet Pressure 60:1 x 6.2 bar (90 psi) = 372 bar (5,400 psi)
Chemical to be pumped - check the wetted materials section table to ensure seal pack- age, pump body, piston, bearings and check valves are compatible with your chemical.

5672 Bolsa Avenue Huntington Beach, CA 92649 - USA - Ph (714) 622-2000 - Fax (714) 622-2001