Haskel Gas Boosters
Pneumatic and Hydraulic Driven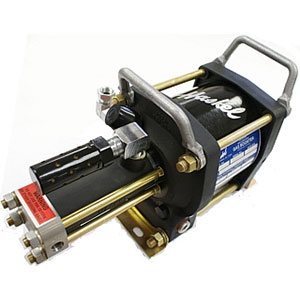 Haskel air and hydraulic driven gas boosters provide for pressures up to 39,000 psi (2690 bar). Used for virtually all known gases, these boosters are ideal for increasing gas pressure, transferring high pressure gas, charging cylinders and scavenging. Key features include:
Air driven - no electricity required
No airline lubricator required
Hydrocarbon free - separation between air and gas sections
Pressures to 39,000 psi (2690 bar)
Wide range of models
Built-in-cooling on most models
Standard and custom systems available
Need help?

FLW proudly carries a large inventory of Haskel product. In addition, we have Haskel product specialists and engineers with application engineering expertise that you won't find anywhere else. Not to mention we repair most standard Haskel pumps and boosters.