System and Application Accessories
Haskel system engineering program has led to the development of a wide variety of high-pressure system components such as relief and control valves, high pressure valves, gauge snubbers, filters, intensifiers, receivers, regulators, valves, fittings and tubing up to 100,000 PSI (7000 Bar). We maintain stocks of these components for fast delivery. These can be provided separately or in conjunction with our; gas boosters, air driven pumps, air amplifiers and other products.

High Pressure Valves and System Accessories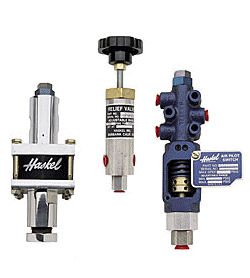 Haskel International offers a wide range of high pressure valves and system accessories designed to assist in the controlled use of pressure and flow-generating equipment manufactured by Haskel and others. Continuous investment in the new machinery and technology keeps Haskel at the forefront of the field.
Our selection of catalog components includes:
Air Pilot Switches
Air Pilot Switches Selection Charts
Air Operated Directional Control & Release Valves
Air Piloted Valves Typical Application
Air Piloted Valves Selection Charts
Regulating Relief Valves
Stainless Steel Check Valves
Hydraulic Accumulators & Gas Receivers
Filters
Plenum Chambers
6,000 psi Gas Storage Cylinder
High Pressure Valves, Fittings & Tubing
Port Adapters
Accessories and Product Information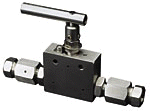 BuTech™ Valves
BuTech high pressure valves, fittings and tubing are available in a variety of materials and pressure ratings to 150,000 psi. Specific series models utilize the same pressure connections as our gas boosters.

Air Pilot Switches
Like a pressure switch, these units are designed to sense pressure, but produce an air signal up to 150 psi.

Regulating Relief and Back Pressure Control Valves
Provide over pressure on any high pressure, low flow gas or liquid system.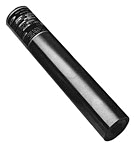 Gas Receivers
Gas receivers in 10,000 and 20,000 psi series. Eleven models from 20 to 897 cu. in. displacements.
Filters
These units are designed as the final protection with gas boosters handling purified gases, or liquid pumps handling pre-filtered clean liquids. The elements do not have sufficient area to be practical for more than occasional particle migration due to pump wear or improperly cleaned piping or containers. They have proven to be good insurance particularly on high-pressure gas systems.
Filtration:5 micron nominal
All stainless steel barstock
Pressure drop:-
25 psi @ 3gpm MIL-H-5606 oil across paper element.
10 psi @ 100scfm gas at 3000 psi across stainless steel element
Stainless Steel Check Valves
Combining the best features of durability and positive sealing, these unique valves are constructed throughout of 316 Series Stainless Steel for the high corrosion resistance essential in the chemical, processing and power generating industries.
PTFE seat seal for positive bubble-tight sealing (with gas) from cryogenic to 3750 F (1900C) temperatures. Seals also available for radioactive environments, or up to 5000F steam. Can be furnished without soft seat for higher temperature steam service.
Sizes 1/4" through 1" use a ball, and for reduced inertia, the larger sizes (1-1/4",1-1/2" and 2") use a poppet. Cracking pressure is 1-4psi.
Larger valves can be furnished for flange mounting to customer specifications on special quantity orders. Consult factory.
Semi-soft means the check ball or poppet initially seats on the PTFE, but after the PTFE deflects a slight amount, the ball or poppet comes to rest against the metal seat so the PTFE does not have to absorb the full load of the high pressure.
Internal passages have flow capacity equal to or greater than double extra heavy pipe of the same size that would be required to carry the rated pressure (see CV factor in chart below).
Typical of good Haskel design is the removal of springs from the flow path. The larger spring is outside the flow and simply provides a preload for the disk. The smaller spring, inside the cage, actuats the ball or poppet but the flow, which is routed through the cage windows, misses the spring entirely. This is why the valves will stand extremely high shock loads and have been tested at rapid high shock up to 2 million cycles without failure.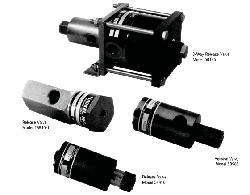 Air Operated Directional Control And Release Valves
They are seated poppet or ball design for virtually zero leakage at high pressures with low viscosity fluids. They are not "bubble-tight" on gas.

Note: Normally open models will generally hold a tighter seal on low viscosity liquid or gas because seating force does not depend on inlet pressure.
They are directly air-actuated for ideal system compatibility in wet or hazardous areas, or when used with air driven pumps or boosters. Yet, if electronic or electrical control is preferred, they can be actuated with any of the wide selection of subminiature 3-way solenoid air valves available from many manufacturers.
They employ the same basic area ratio principle used in Haskel pumps enabling high forces to be easily and directly controlled from low-pressure plant main or instrument air
Although not normally considered for pressure control, all of the normally open 2-way models can do double-duty in a circuit by also providing a safety relief function simply by installing a small air regulator in their pilot line (schematics next page).

Download our Brochures
Specifications
Pressure Rating
| Size | Stainless Steel | Brass |
| --- | --- | --- |
| 1/8" to 1" | 10,000 psi | 4,500 psi |
| 1-1/4" to 1-1/2" | 7,500 psi | 3,000 psi |
| 2" | 6,000 psi | 2,500 psi |
Orifice:
0.08" to 0.94" (2.03mm to 23.87mm)
Temperature Rating
| | |
| --- | --- |
| Nitrile | -30°F to +250°F (-34°C to +121°C) |
| Fluorocarbon (Standard) | -20°F to +400°F (-29°C to +204°C) |
| PTFE | -320°F to +400°F (-195°C to +204°C) |
| Ethylene Propylene | -45°F to +250°F (-42°C to +121°C) |
| Neoprene | -45°F to +250°F (-42°C to +121°C) |
| FFKM | -15°F to +400°F (-26°C to +204°C) |
Standard And Custom Built Liquid And Gas Systems
Haskel can custom build portable to large PLC control systems for a wide range of industries and application. Both Haskel Manufacturing Divisions have clean room facilities for oxygen and similar requirements to 1000 level clean.
Portable pressure test packs.
Pressure, proof, leak, burst, fatigue testing of hydraulic, gas, refrigerant, automotive hose and rigid pipes
Pressure and functional testing of valves
Volumetric stretch testing of gas containers
Helium leak detection of refrigerant and air conditioning equipment
Oxygen transfer and pressurization of accumulators
CFC refrigerant and Halon fire extinguishing substance recovery and charging
SF6 recovery and reclaim from circuit breakers
Chemical injection, metering and dosing pumps and packaged system

5672 Bolsa Avenue Huntington Beach, CA 92649 - USA - Ph (714) 622-2000 - Fax (714) 622-2001